Rottweiler Cartoon

Are you looking for a really cute Rottweiler cartoon? Well, look no more! I have found some really talented folk's.
You can see 3 of my favorite designers here on this page, and Whatever YOUR favorite cartoon depiction of the Rottie is, you can order it on just about anything.



---
Designs by Cartoon-Dogs
This adorable Rottweiler cartoon was created by a very talented gentleman named Tony, and he has cartoon designs for most other breeds of dogs as well.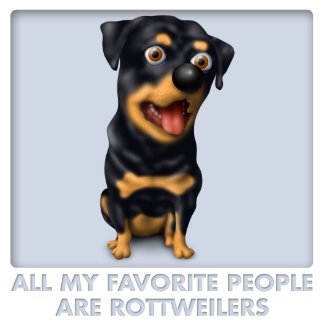 If you like the look of this little guy, there's almost no limit to what type of products you can order it on.
Don't live in the U.S.? Don't worry, you can still get the coolest Rottie stuff right here!
I mean we're talking t-shirts, coffee mugs, mouse pads, key chains, tote bags and so much more - like I said there's almost no limit.
In some ways I think it's great to show the Rottweiler breed in a cartoon.
It helps people see them as the sweet, funny and gentle souls that they are, instead of the "guard dog" as they are so often thought of.
You and I both know how much of a clown side Rottweilers have. My male Rottie Chevy is really just a big ham, and he keeps us laughing more often than not.
I think the Rottweiler cartoon art that Tony has designed does a great job of depicting how silly the real Rottie can be.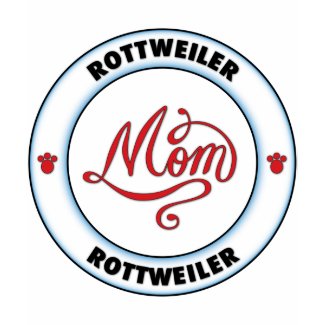 I personally love it, and have ordered a couple of t-shirts and tank tops with his artwork on them.
I get compliments all the time from people, and they ask me where they can get a cartoon version of their own dog.
I also really love Tony's "Rottweiler Mom" design. It doesn't actually have the cartoon picture on it, but judge for yourself how cool it is.
And hey, who doesn't want to show off our favorite awesome breed to everyone?
I don't know that my husband would wear a "Rottweiler Dad" t-shirt, but I'm going to get him one of the ball caps, since he's always wearing one!
Tony's motto is "Don't trust anyone who doesn't like dogs"! With a motto like that, and talent to make the cutest darn Rottweiler cartoon, how can you resist?
Here's a quick look at some of the other items available with Tony's designs on them, just click on the big picture below and you'll be able to choose your country and then directly to the store where you can purchase whichever item you like the best!
---
Designs by Art-by-Angi
Okay, I love ALL the Rottweiler cartoon designs by Angi Laframboise. Her designs are so amazing that words can't even describe!
This gal has got some serious talent, not to mention creativity.
Her version of a Rottweiler cartoon is actually very lifelike, but one of the best parts of her designs is that you can choose from over 100 themes.
such as a Rottie firefighter, or baseball player, or chef, or. . . . there's just too many to list here!
Seriously, just about any theme you can imagine seeing a Rottie in, she already has and then she created it for you.
So, you can choose from 100's of themes, then choose to put that theme on 100's of products such T-shirts, coffee mugs, mouse pad's, etc. - the possibilities are almost endless.
I will WARN you though. . . . You can get lost for hours in her Zazzle store looking at all the different themes because there are so many, and they are so awesome.
So, block out some time to browse through her store, and of course she has the same themes and products available for other dog breeds as well.
---
Designs by Cartoonize-My-Dog
Okay, you really can't beat these Rottweiler cartoon designs by CartoonizeMyPet. I really like the Rottie with his tongue sticking out.

After all, isn't your Rottie usually smiling like that? Just like with the store above, you can get this artwork printed on just about any product.
This one however is unique in that you can get a big sized cut-out, which you could hang on your wall if you wanted. How cool is that?
They also have tons of other dog breeds to choose from if more than just Rotties share your life :0)

Also something that is unique about this store, is that they offer a couple different designs that include Rotties with a tail, and different color versions.
You can also personalize a lot of things here, such as the text that is written on a greeting card, or even a t-shirt!
The possibilities are almost limitless. . . .you can get your favorite product with a black & tan Rottie with no tail, or change it up and use a black & brown or even white Rottie with a tail.
You decide - You're only limited by your wants. If this is your favorite Rottie cartoon version, then make sure to click the picture below and visit this store to see what the possibilities are - get creative!
---
Site Navigation
Return to Rottweiler Merchandise from Rottweiler Cartoon
Return to Rottweiler Facts & Info Home from Rottweiler Cartoon